UV Light Sterilization UVC Robot For Hotel
Brand: Unipin
Product origin: Foshan China
Delivery time: 10-15 days
Supply capacity: 100PCS per month
We have obtained more than 100 patented scientific and technological achievements with independent intellectual property rights. Create efficient, stable, reliable and practical disinfect robot solutions for different scenarios.
UV Light Sterilization UVC Robot For Hotel
〖UV LIGHT STERILIZATION UVC ROBOT FOR HOTEL〗
▍DIMENSION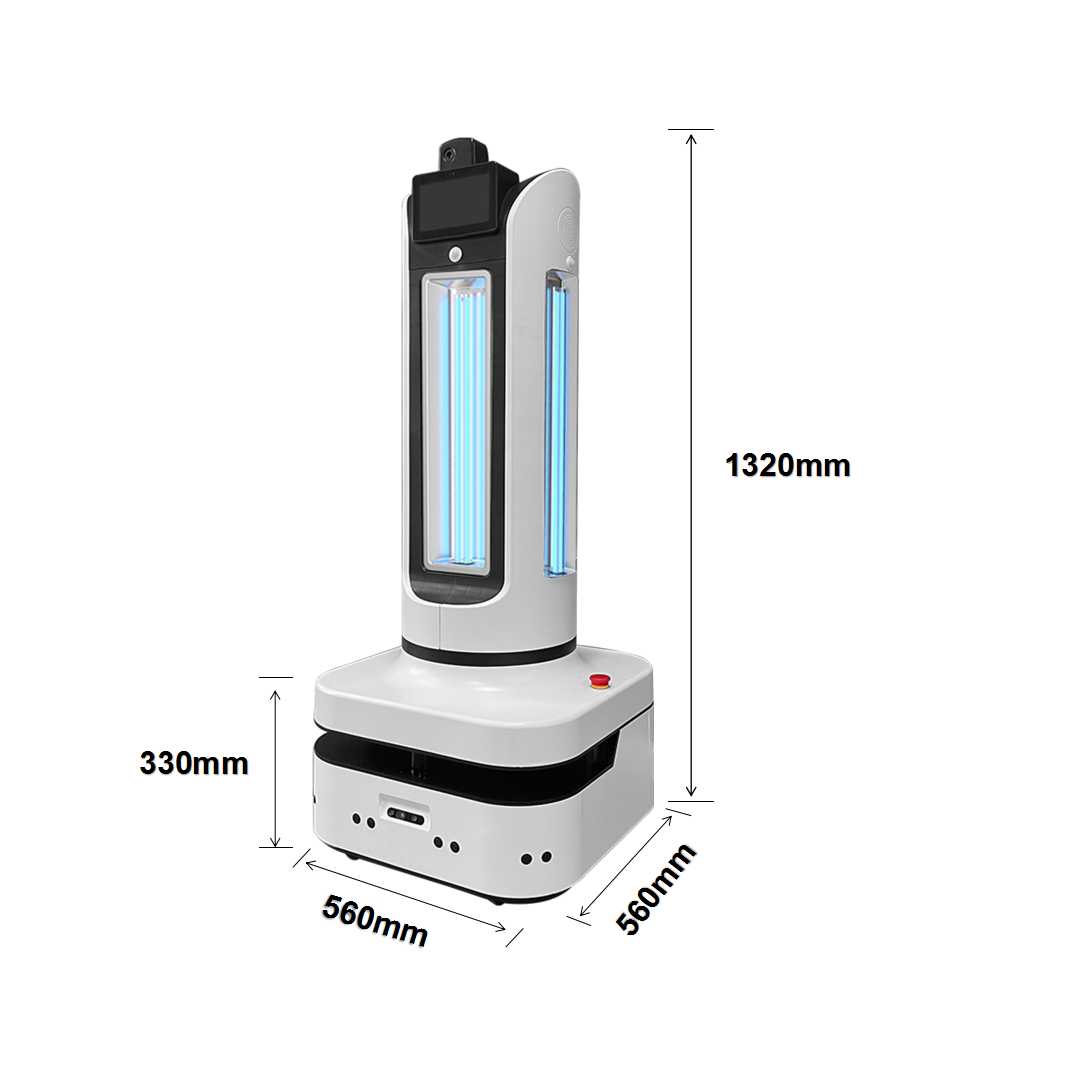 ▍FEATURES
● Autonomous navigation - LIDAR Mapping/Positioning/Path Planning/Navigation
● Two operation mode optional - Duty mode to work in fixed area autonomously,or customized mode to work in preset paths & time.
● Automatic recharge - Automatically charge when the power is below the threshold, and automatically resume work after charging.
● Obstacle avoidance - Equipped with lidar, ultrasonic to achieve intelligent obstacle avoidance.
● Video Monitoring - real-time shooting, high-speed network transmission.
● Face recognition - High-definition camera, Quick facial features capture.
● Body temperature measurement - Real-time detection of body temperature, intelligent thermal imaging display, alarm when body temperature abnormal.


▍APPLICATION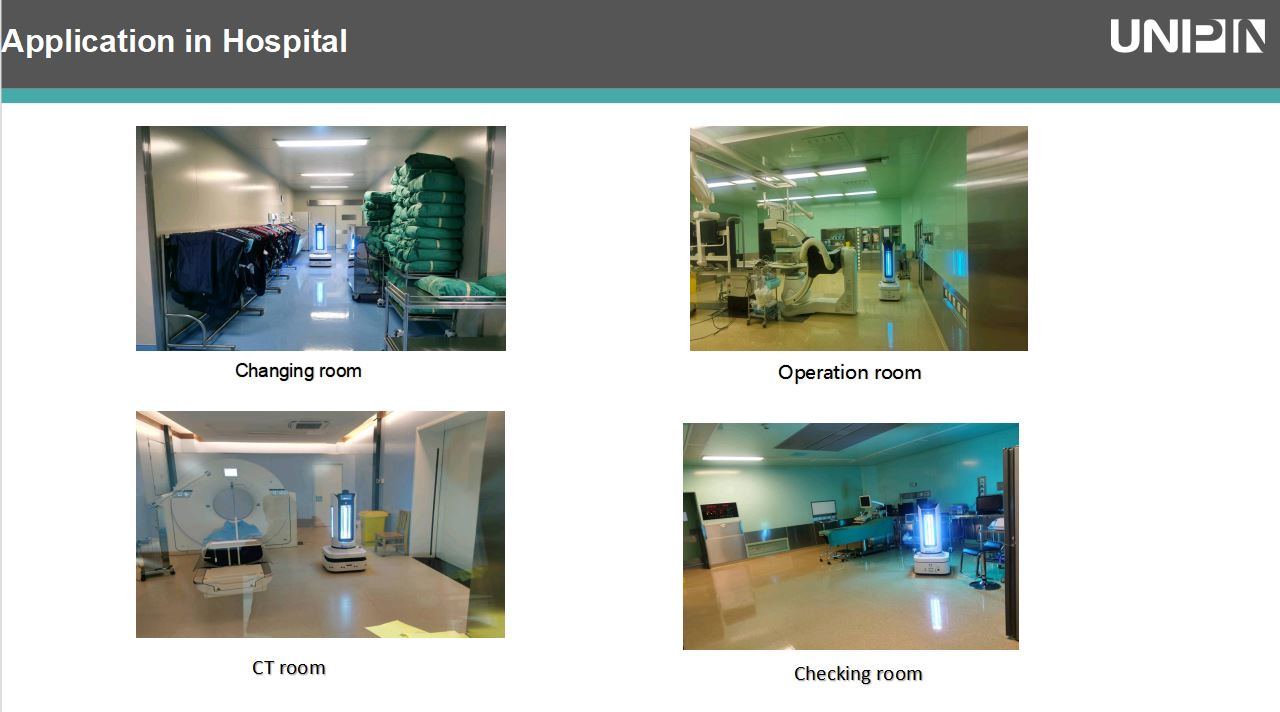 ▍PARAMETERS OF AUTONOMOUS UV SANITIZER ROBOT
Parameters of UVC Disinfection Robot
Complete Machine

Equipment Name

UVC Disinfection Robot

Model

TianPingID1

Casing size(mm)

560*560*1320

Packing Size(mm)

660*660*1400

Gross Weight (including accessories and packaging)

74KG

Rated voltage

24VDC

Gross Power

300W

Casing materials

ABS
Parameters of UVC Disinfection Lamp
UVC Disinfection Lamp

Model

ZW55D17W-H533

Power

55W/pc

Rated Voltage

200V

Rated Frequency

50HZ

Lamp Length

533mm

Current

550mA

Diameter

17mm

Voltage

110-130V

UV light intensity

170uw/cm²

Casing type

H type

Material

The lamp tube is made by quartz and the lamp holder is made by ceramic

Lamp holder specifications

2G11

Area covered

30m2/15mins (static)

Light Colour

Blue

Luminous flux

3000lm

UV wavelength

253.7nm(UV-C)

Life cycle

8000Hrs
AGV Chassis Specification
Size

Chassis size(mm)

560*560

Power Supply

Battery

LFP battery

Battery Capacity

25.6V/40Ah

Charging time

3-4 H (Charging station)

Battery Life

80% after 3000 charging cycle

Max Charging Voltage

29.4V

Battery Life

5-6 H

Driving Wheel

Dimensions (wheel diameter*width mm)

160*45

Material

SBR

Quantities

2 pcs

Assistance wheels

4 pcs

Power

50W

Max Speed

180r/min

Max Torque

4.7NM

Camera

Vision Camera

1 pc

Resolution

10 million pixel

Performance

Max Load

≈50KG

Max Speed

≈1.5m/s

Navigation Accuracy

±30mm

Direction

360°Rotation

Safety Protection

Emergency Stop Button

Emergency Stop

Collision prevention and obstacle avoidance

Lidar/RGBD depth camera

RGBD 3D camera

1 pc in front

Voice broadcast

Yes

Remote Control

Remote control module for start/stop

Navigation

Navigation Mode

SLAM Navigation

Route planning

Auto planning / manually assigned route planning

Navigation Sensor

TOF Lidar(20m)

Communication

Wireless network

2.4GWIFI

Configuration Port

Ethernet RJ45

USB

USB3.0

Environment

Ambient temperature

0°C- 45℃

Environment humidity

Relative humidity<60%

Operating environment

For indoor use only (no dust/corrosive gas)

Protection level

IP20

Floor COF Rating

≥0.5

Ground requirement

Concrete ground (NO water/oil/dust)

Ground conditions

Vertical over-obstacle capacity

10mm

Gap-crossing capacity

20mm

Max climbing angle

5°
Charging Device
Direct Charger

Input

100-240VAC~2.2A max

50/60Hz

Output

29.4V—4A

LED Indicator light

Yes

Cable length

1.5 m

Charging station

Size(mm)

354*170*286

AC input voltage

110VAC/220VAC(Optional)

DC output voltage

29.4VDC

DC output current

10A

Output power

300W

Cable length

1.4m

LED Indicator Light

Yes
▍PROCESS OF UV ROBOT HOSPITAL