Guangdong Robot Association and UNIPIN Robot visited Macao Federation of Industry and Commerce to seek new opportunities and new cooperation
2022-01-26
Guangdong Robot Association and UNIPIN Robot visited Macao Federation of Industry and Commerce to seek new opportunities and new cooperation
On January 6, 2022, representatives of member companies of the Guangdong Robot Association visited the Macau Federation of Industry and Commerce and held a symposium with the leaders of the association.
Mr. Li, the general manager of Tianpin disinfectant Robot, introduced and demonstrated our spray disinfection robot. The leaders of the Macau Federation of Industry and Commerce were very interested in the spray robot. They said that local SMEs in Macau have been plagued by the high cost of human resources in Macau and believe that the field of artificial intelligence and robotics has a bright future in Macau. In addition, under the epidemic prevention and control, the prevention pressure in Macau is tough, especially in shopping malls, hospitals, restaurants and schools. I believe that Tianpin's disinfectant robots can reduce the disinfection pressure in public areas.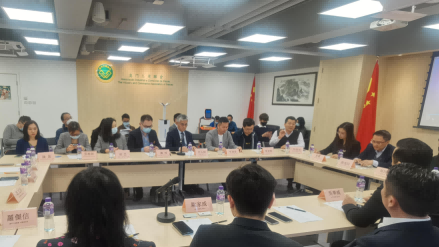 Immediately, our spray sterilizing robots carried out disinfection work in a large shopping mall and a dental clinic in Macau.